Contact St. George's Caye Resort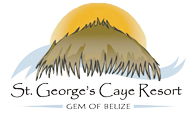 Email
reservations@gooddiving.com
Call Toll Free
1-800-813-8498
How to get here
Belize is easily accessible through major gateway cities, with direct air service from Atlanta, Charlotte, Dallas, Miami, Houston, New York, and Los Angeles on various carriers. Tropic Air also operates regional connector flights from Cancun. All ground and boat transfers to the resort are included in the nightly rate.
Sign up for our email list!
We are excited to share special offers, announcements and events with you!
We respect your privacy and will never sell or share your information with anyone.