Diving the Blue Hole - Belize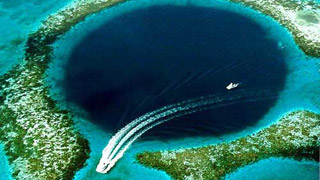 Dive into the Blue Hole
$395 USD per person ( min. party may apply)
For an experienced diver, no visit to Belize is complete without a trip to the world-famous Blue Hole. A mecca for scuba enthusiasts, the Blue Hole is a sink hole located within the Lighthouse Reef Atoll that spans 1000 feet in diameter and measures 408 feet at its deepest point. Discovered by Jacques Cousteau in the early 1970s, the Blue Hole is a natural masterpiece to behold.

St. George's Caye Resort offers full-day trips where you can delve beneath the surface to discover the Blue Hole's cavernous spaces adorned with stalactites. It's not uncommon to see a black tip reef shark or even a hammerhead as you descend deeper. Day trips include two additional wall dives at the Lighthouse Reef Atoll and lunch at the picturesque Half Moon Caye Natural Monument, the exclusive nesting site of nearly 1500 pairs of Altantic red-footed booby birds.