Jim & Linda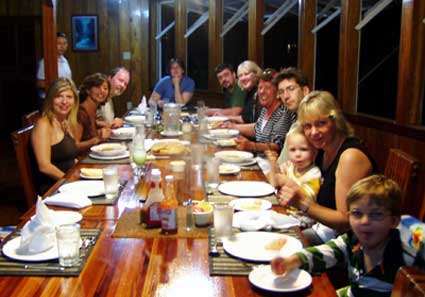 Linda and I just got back from an amazing vacation in Belize. The second half of our trip was spent at the St. George's Caye Resort. I felt I had to share with you our experience. The lodge is a nice small complex on the beach with six "huts" right on the water. To call the accommodations "huts" does not do them justice. They are very nice rooms surrounding a small lagoon protecting young fish as they grow in the wild. It was fascinating to watch the sea life.
Your hosts make every effort to make you feel at home. The diving was amazing. You know how amazing the reef is, but the service took the entire experience to the next level.
When you first arrive, the dive staff talked with the guests to discuss your skill level and interests. They call it "Valet Diving" since you never have to worry about your equipment. They clean and maintain your equipment or provide any equipment you may need. We went down there with only our fins, masks and snorkels. They provided us with some top notch equipment. They are equal in caliber to your great staff.
All meals are served "family-style", which allows all of the guests to get to know one and other. Of course the food was amazing. I could go on-and-on about the time we spent, so I hope you will share our recommendation with anyone interested in diving Belize.
Thanks, Jim Morelli and Linda Quinn