St. George's Island Spa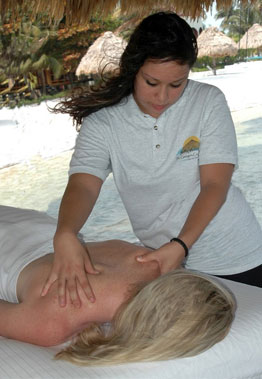 Melt away your cares and tension with a deep Swedish massage, a scrub, wraps and more in our cozy sanctuary dedicated to the ultimate in pampering. A variety of services will keep you coming back for more all week.

The signature Head to Toe treatment is truly an island experience while filling your day with activities such as diving, fishing or snorkeling, you will be rejuvenated by our spa.
Massages
Swedish Massage
Swedish massage techniques leave the body relaxed and rested. Using lighter rhythmic strokes, it is enjoyed by all ages and lifestyles. A soothing massage followed by a warm towel cleanser and eucalyptus essence to rejuvenate your skin. A Swedish massage improves circulation, muscle tension relief and an overall feeling of relaxation and well being. Your body will feel rested and your mind at ease.
One hour $95 US
One and Half hours $135 US


Deep Tissue Therapeutic Massage
A deep tissue massage is a therapeutic and healing massage, interacting with the body's muscles. Sore and tired muscles become revived and energized.
One Hour $105 US
One and half hours $150US


Sports Massage
Sports massage concentrates more on specific areas of the body, perfect for a very active or athletic body that seeks a muscle intensive massage.
One Hour $95 US
One and half hours $135 US


Hot Stone Massage
The deep penetrating heat of the stones melts the tension away. The heat enhances relaxation and circulation and is perfect for deep tissue massage to help stubborn muscles release and relax.
One and a half hours $175 US


Mud Massage
Your skin is tantalized by the warming mud massage that invigorates your skin and leaves a soothing calm sensation. Following a warm shower, your body will by moisturized for a smooth finish
One Hour $95 US
Body Scrubs
Bomba Mud Scrub
A tantalizing mixture of mud and coffee is massaged over your body releasing a relaxing aroma as your skin is smoothed by the mud. Following a warm shower, your skin will be rejuvenated and smooth.
One hour $95 US


Sweet Body Scrub
A sweetened body scrub of honey and sugar, where the moisturizing honey and sugars are massaged over your body leading to softer, cleansed skin. Following a warm shower, your skin will be revitalized.
One Hour $115 US
Facials
Natural Facial
Enjoy the healing powers of a papaya and sugar to naturally open pores and cleanse your skin with a mud masque and the coolness of a tea eye treatment. Relax with a hand and foot massage while your masque is setting.
45 minutes $75 USD


Head to Toe
Truly satisfy your bodies need with a head to toe treatment, a sweet body scrub followed by a warm shower. A Swedish massage, facial and pedicure are all included.
3 hours $295 USD


Peppermint Pedicure
Feel the soothing coolness of a foot peppermint bath with a sweet foot scrub treatment and massage.
45 minutes $65 USD


Spa Manicure
Relax with a manicure and hand massage.
45 minutes $45 USD