FOR CERTIFIED DIVERS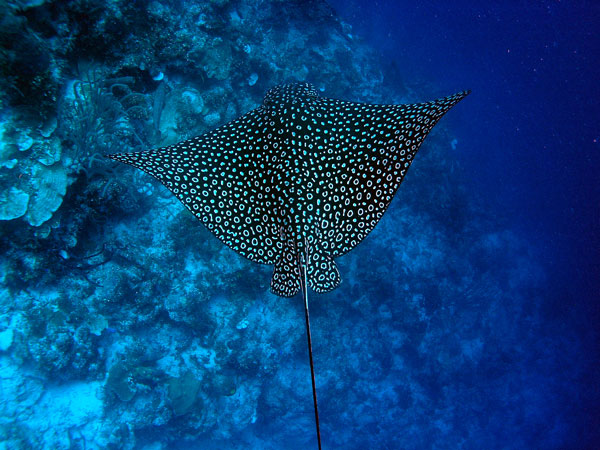 Our guests can enjoy two dives each morning with our professional dive leaders and instructors. All gear, along with snacks and beverages, are on the boat in the morning, and due to our convenient location guests are able to enjoy lunch at the resort, and take in an additional dive in the afternoon. Night diving over the reef is spectacular and offered upon request.
VALET DIVING
Diving is a way of life at St. George's. With well over 40 years of combined diving experience, our professionals will help you plan your diving itinerary step-by-step, along with any refresher courses needed or certifications desired. A comfortable and safe atmosphere is provided for every diver with our limited group sizes, customized dive boats and attention to each individual diver's skill and experience level.
Our professionals set up your gear for each dive, clean and store your gear after diving, and take care of any needs and special requests. We leave the "cattle boat" experience to others. Our "Valet Diving" program promises the utmost in personalization—our dive team does all the work and you have all the fun!
PRICING
Two-tank morning local reef dive - $95 in prepaid packages, $105 onsite.
One-tank afternoon local reef dive - $50 in prepaid packages, $60 onsite.
Three-tank local reef dive day - $145.
Nitrox - $10/tank.
LIONFISH DIVE SAFARI
In order to help control the invasive lionfish population around Belize, our dive professionals often take spear guns with them. The excitement of the hunt – stalking the spiny fish, getting in position for the shot, and pulling the trigger – is exhilarating. We offer the opportunity to join in the fun to our guests who are competent divers. There is a surcharge for this specialty dive, but we also give credit for your catch! And with a little luck we can bring back enough for the chef to prepare as appetizers for everyone – it's a delicious white fish!
BLUE HOLE / ATOLLS DIVING
A Mecca for SCUBA enthusiasts, the Blue Hole is a sink hole located within the Lighthouse Reef Atoll that spans 1000 feet in diameter and measures 408 feet at its deepest point. Discovered by Jacques Cousteau in the early 1970s, the Blue Hole is a natural masterpiece to behold. St. George's Caye Resort offers full-day three-tank dive trips where you can delve beneath the surface to discover the Blue Hole's cavernous spaces adorned with stalactites. It's not uncommon to see a black tip reef shark or even a hammerhead as you descend deeper. Day trips include two additional wall dives at the Lighthouse Reef Atoll and lunch at the picturesque Half Moon Caye Natural Monument, the exclusive nesting site of nearly 1500 pairs of Atlantic red-footed booby birds.
Regular 3-tank dive day cost plus $185 (pre-reserved)
Marine park fee ($40) additional
Price when booked on-site varies based on number of participants
Same trip for snorkeler at $225
Two-tank morning dive trips to Turneffe Atolls available for as little as $20 over local reef dive price.
INSTRUCTION AND ADVANCED CERTIFICATIONS
SCUBA SKILLS UPDATE
If you have not been diving for a while (one year or more), or if you just want to be sure of your skills and comfort, our instructor will refresh your diving and equipment knowledge in our pool. You will then be ready to continue diving during your vacation.
$110 includes refresher training and one tank dive
ADVANCED OPEN WATER CERTIFICATION
The next step to improving your skills as a certified diver entails specialty training in different knowledge and skill areas underwater. See the PADI or SSI website or contact us for additional information.

$195 plus cost of dives
NITROX CERTIFICATION
Classroom training covers theory of Nitrox gas mix and comparisons to breathing compressed air. Course includes two open water dives using Nitrox under the direct supervision of our instructor.

$145 plus cost of dives