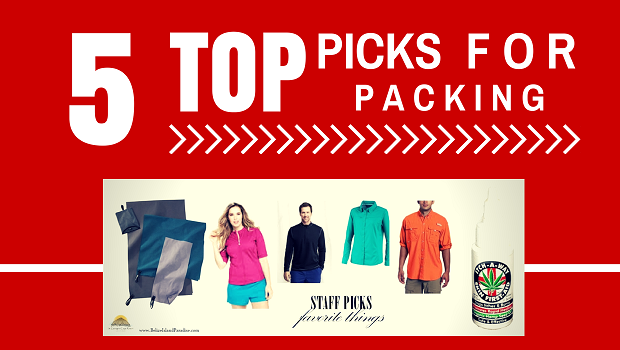 Another summer season is upon us already! Are you planning your trip to Belize and wondering what to pack? We surveyed our staff, who has collectively over 50 years of experience, asking them what items they found most helpful to those traveling to Belize. Here are the St. George's Caye Resort Staff top 5 picks.
PACK TOWL :: Personal Towels
Hands down our favorite and most versatile item - these very small and thin towels are highly absorbent and dry fast. Excellent for traveling, they pack into any size bag. Some ways we have used them, other than the obvious like drying off after a shower or swim- is to cover public seats when in the airport, clean your hands when no facilities are available, or cover coughs or sneezes. They wash easily in any sink, wring out most of the water and are ready to use again. By your side at the beach or pool, these little guys are handy for wiping sweat or drying your hands before you read your magazine. Diving? Perfect companion to your dive gear. Hiking in the jungle? Take one of these with you!
>>STAFF PICKS FAVORITE BRAND: www.PackTowl.com
2. RASH GUARD ::
Rash guards are a must for snorkeling or diving. While we do have wet suits available for your convenience our dive team highly recommends bringing along a personal rash guard. Available in many brands, colors and sizes -find one that suits you! Rash guards protect from, well, rashes -caused by dive gear or bumping coral. They also protect from sun damage while snorkeling. We often forget that while face down in the water for an hour, our backs are at the surface getting burned. Jose, our veteran dive instructor, prefers the Lands End men's (also available for women) half zip pullover rash guard. The half zipper makes putting on and taking these off much easier.
>>STAFF PICKS FAVORITE BRAND: www.landsend.com
3. FISHING SHIRT ::
Fishing shirts come from several different manufacturers including Magellan (Academy.com), Columbia and Under Armor. Fishing shirts are certainly not just for fishing! Take our word for it and pick one up before your trip! These shirts are designed to cover and protect your skin without the bulk. They include pockets that zip -so nothing falls out into the water, collars that adjust to cover the back of the neck, sleeves that roll and tie. Most come with sun protection of SPF 40+ to ensure you don't get burned. Throw one in your bag for a swimsuit cover or jungle companion. These shirt pack easily without any added bulk.
>>STAFF PICKS FAVORITE BRAND: www.Columbia.com
4. BUG SPRAY W DEET ::
When we asked our experienced staff about bug spray they unanimously agreed: if you want to without a doubt keep the bugs off your skin you must use bug repellant with DEET. I know this day and age with all the information we have about the toxicity of chemicals like DEET causes us to refrain from buying them. However, nothing can ruin a day trip to the jungle or nice walk on the beach like mosquitoes or sand flies biting at you. Whatever you choose, make sure to bring along your favorite repellant just in case the bugs
are out.
>>STAFF PICKS FAVORITE BRAND: OFF Outdoors or Deep Woods Repellant w/ DEET. Found at any local drugstore.
5. HEMP OIL ::
100% Belizean pure hemp oil Sold only in Belize, this pure hemp oil is grown, harvested, and bottled in the jungle of northern Belize. The uses of this little bottle include moisturizing, lip balm, after sun care, bug bites, rashes, or razor burn. Ask for a bottle upon check-in and discover why the locals love and recommend this product. Available in the office for $5 USD.
>>STAFF PICKS FAVORITE BRAND: www.itachaway.com
________________________________________________________________________________
What are your favorite things when traveling? Do you have any suggestions? We will be putting together the Top Picks from guests like YOU! Let us know at This email address is being protected from spambots. You need JavaScript enabled to view it. or on our Facebook page here.