Did you know that only 1 in 4 couples go on their dream honeymoon?
Romantic honeymoon locations are everywhere in Belize! How do you decide the best place for your honeymoon? We've put together a list of unique honeymoon information. And don't forget, you DO NOT HAVE TO BE A NEWLYWED TO TAKE A HONEYMOON! Honeymoon and Romance packages are available to all those celebrating LOVE <3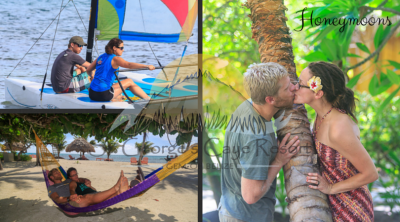 AARP recently put Belize on its list of World's Best Honeymoon Destinations for 2014 stating that "Belize is an incredibly compelling honeymoon destination for three simple reasons: its close proximity to the United States (a two-hour flight from Miami or Houston), its weather (around 84 degrees daily year-round), and the 190-mile-long Belize Barrier Reef, which is easily accessible along the coast and a wildly popular spot for snorkeling and scuba trips, fishing excursions and romantic sunset cruises. Belize attracts a variety of honeymooners, from nature lovers, history buffs and diving fanatics to zip-liners, cave (river) tubers and those who simply prefer to sit on the beach at a resort with drink in hand."
>>> View the full AARP 'World's Best Honeymoon Destinations for 2014' article here
CNN Travel describes Belize's St. George's Caye Resort as "a little known getaway 20 minutes from Belize City". This close proximity makes St. George's Caye Resort's honeymoon packages and adventure packages even more attractive. Once you arrive at the international airport your transport time from door to door is 40 minutes! No extra flights or long bumpy van rides. Easily transfer to St. George's Caye to begin your romantic getaway.
>>> View the full TRAVEL.CNN.COM Article on Belize's Best Cayes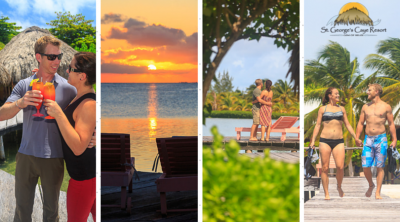 Destination Weddings Magazine notes that many newlyweds are seeking "a more active or adventurous element to begin their journey through life," and St. George's Caye Resort in Belize definitely has you covered in all areas. Learn to SCUBA Dive together. Climb an ancient Mayan temple together. Or simply pack up some beers and kayak around the island. Your honeymoon, your way.
>>> View the full DestinationWeddingMag.com article here
Read what our latest couples are saying about us here on TripAdvisor!
_________________________________________________________________________________
Know someone looking for the best romantic honeymoon? Please share this with them. Are you looking for a Caribbean honeymoon? Contact CAP'N RON today at This email address is being protected from spambots. You need JavaScript enabled to view it..