We are so fortunate to have the warm Caribbean Sea as well as our sparkling saline swimming pool to enjoy at St. George's Caye. One of the things we have not enjoyed so much is sinking into the mud as we walk into the water from our beach on the east side of the island. Our solution has been to swim off the end of our dock, which provides a ladder for climbing back out after a swim. But over the last couple years many guests have asked us to provide a swimming beach that is easily accessible and offers walk-in swimming right from the beach.
We are always listening to the feedback we receive – after all, the resort is here only for the enjoyment of our guests. And of course we always want to upgrade our very popular signature "St. George's Caye Experience." At the same time, we are ever mindful of the ecosystem of which we are a part. But for our sensibility to the environment and ecosystem, it would be easy to construct sea walls, dredge the ocean bottom and move tons of sand to create a large walk-in beach. So we have been in a quandary and looking for how to have a great swimming beach (and snorkeling area) while maintaining our stewardship of the caye, the reef and the ecosystem.
After input from our veteran staff with well over 50 years combined experience tending to the island and the reef, we identified an excellent location in a protected area on the leeward side of the caye that already had a sandy bottom and could relatively easily be turned into a beautiful swimming beach and snorkel area without disturbing the natural ecosystem. This beach, between our saline pool to the east, our recently completed reception dock to the west, and adjacent to our Overwater Cabanas, enjoys milder breezes and gorgeous sunsets! It is excellent for ocean swimming and snorkeling, and is also an easy launching area for kayaks. I like to paddle from here and explore a different part of the caye each day, and sometimes paddle to the nearby cayes.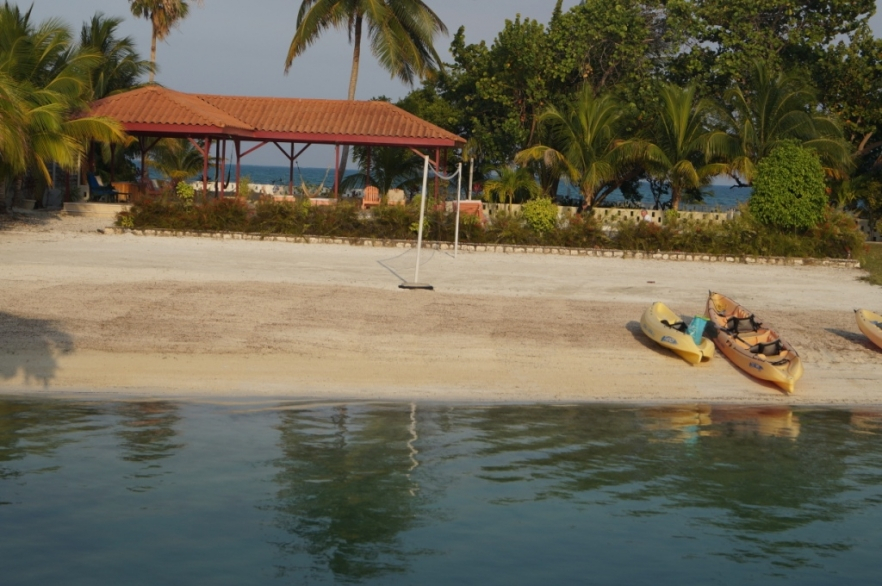 With lounge chairs arranged on the beach, and the water steps away, our guests now enjoy walk-into-the-ocean swimming and an excellent snorkeling experience right on property. We thank all of our guests for visiting us, and ask that you all keep providing feedback for an ever-improving St. George's Caye Experience.
Cap'n Ron