Tropical islands are famous for coconuts. The Cayes of Belize are certainly no exception. And on St. George's Caye in Belize coconuts are bountiful, fresh, and healthy. In fact, our kitchen and Sandbar use these versatile pieces of paradise every day in one form or another. You are certainly going to encounter them on your vacation in Belize! So why not learn a little about them?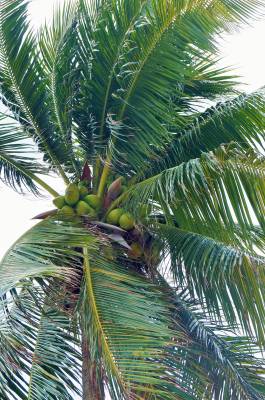 The Library of Congress has listed some interesting facts regarding coconuts :: DID YOU KNOW??
Every bit of the coconut is used. As a result, coconuts are called the "Tree of Life" and can produce drink, fiber, food, fuel, utensils, musical instruments, and much more.

When intra-venous (IV) solution was in short supply, doctors during World War II and Vietnam used coconut water in substitution of IV solutions.

Botanically, the coconut palm is not a tree since there is no bark, no branches, or secondary growth. A coconut palm is a woody perennial monocotyledon with the trunk being the stem.

Possibly the oldest reference is from Cosmas, a 5th century AD Egyptian traveler. He wrote about the "Indian nut" or "nut of India" after visiting India and Ceylon, Some scholars believe Cosmas was describing a coconut.

It takes 11 -12 months for the coconut to mature.
From <http://www.loc.gov/rr/scitech/mysteries/coconut.html>
Here on the island our main uses for coconuts include:
Coconut Water :: For hydration and also used in some Caribbean cocktails.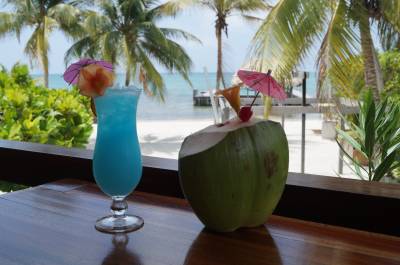 Coconut Milk :: Used in sauces and or by itself. Milk is obtained by squeezing the pulp from a mature coconut.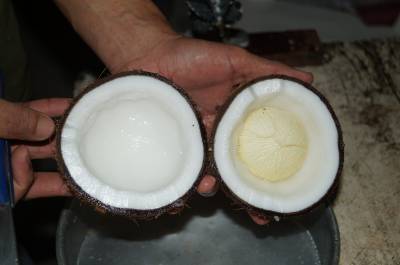 Coconut Oil :: Made in different ways by hand-me-down family recipes. St. George's Caye resident fisherman Joe and his wife Carmen harvest and make the coconut oil we use for cooking, using only St. George's Caye coconuts. (And personally, I use the coconut oil as a skin moisturizer. It's amazing and all-natural!) Coconut oil is also commonly used in soaps and beauty products.
Shaved Coconut :: Used in desserts, curry sauces, and in our house favorite coconut rice! You can also split open the coconut and eat it right out of the shell with a spoon. It tastes a bit like jello when you eat it this way.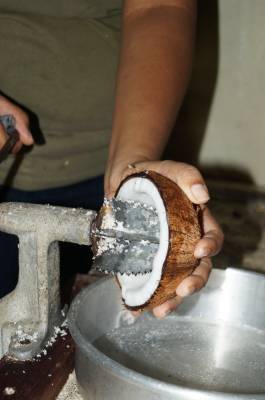 Coconut Husks :: On the island we burn the outer, dried, brown husk for two reasons; for great flavor in open flame grilling and to keep the mosquitoes at bay. Husks can also be used to make rugs and mats, brooms, and building materials.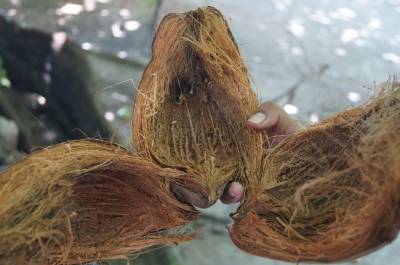 And the best thing about coconuts?
They regenerate and sprout easily perpetuating our love for their delicate flavor and versatile uses.