Getting to Belize is easy! If you live in Los Angeles, Dallas, Houston, Atlanta, Miami (and soon Chicago), you will have a direct flight into the Belize International Airport. Being a country of approximately 300,000 people the airport is small and friendly. Still, if this is your first time to Belize you will certainly have some questions.
What airport do we fly into?
Whether traveling to Belize City, Placencia, San Pedro, or anywhere else in the country of Belize you will need to first fly into the

Philip S.W. Goldson International Airport

.

The airport code is

BZE.

This is the only International airport in Belize, so all visitors arriving by air must enter here. And as the picture below shows -you will actually exit the plane via a staircase outside!

If you are not joining us at St. George's Caye Resort and require a connecting flight you have two options, be sure to make all transfer arrangements before arriving in Belize as most businesses close at 5 or 6pm.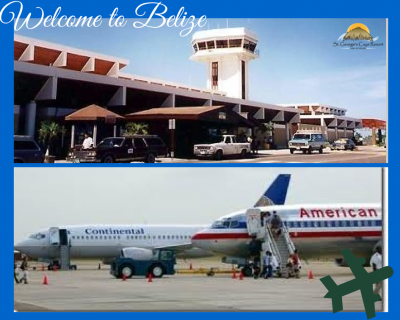 What should we expect when we get to the airport?
First and foremost, keep in mind you are now in the land of Belize where time has a different meaning. Be patient, Belizeans do everything at a slower pace than you are used to. Slow down and remember you are now on vacation!

Getting through the airport is a three step process. When you arrive you enter

IMMIGRATION

, where you show your passport and arrival document you filled out on the plane.

BAGGAGE CLAIM

is the 2nd step, fairly easy as there is only one place to claim bags. Sometimes they even have live music to entertain you. 3rd step is

CUSTOMS

where they want to know if you are bringing things you shouldn't like a suitcase full of cigarettes to resell or live animals. Most people find this a quick process.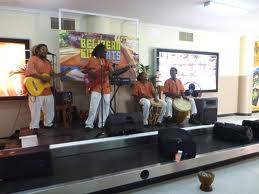 As Belize grows in popularity the International airport strives to keep up. If several flights arrive at the same approximate time, unfortunately, you can have a wait time of up to 45 minutes. They have recently computerized their immigration stations so waiting times have decreased. An average wait time to pass through immigration, get your bags, then clear customs (where they may ask to look inside your bags) is about 15-20 minutes.
When you are a guest of St. George's Caye Resort you will have a personal escort waiting for you just outside (and it is literally outside) of customs. Our representative will escort you from the airport all the way to your island vacation!
So, we do not need to book any transportation before coming to Belize?
No! Not as our guest. ALL transfers upon arrival and departure are part of your Belize vacation package.
How long does it take to get from the airport to St. George's Caye?
The transport is two part; a 15 minute car ride to the marina (located at the

Ramada Princess Hotel

in Belize City) and a 20 minute boat ride to St. George's Caye.
From the time you arrive at the airport until your stay is finished you will find most all Belizeans you meet along the way to be friendly and helpful.
Getting to and from Belize is a breeze!
Still have questions? Go ahead and ask -we want you to be ready and prepared for your Belize Island Vacation!
See you soon!